Description: "This current generation is yearning—more than anything for what is REAL." This collection "showcases how you can experience 'Real Change, Real Victory' in your life, because it's all about being the real you!"
Title of DVD: Real Change
Real Victory this is the Real Rod Parsley Volume I
ASIN: B0018CLFWG
Copyright: 2008 Rod Parsley with Breakthrough
DVD Collection: 4 DVD Collection set (4 hours)
Contents
Hidden in: Tents Part I
Hidden in: Tents Part II
Holiness: Liven Leaven Free
Repairers of the Breach
Copyright: 2008 Rod Parsley with Breakthrough
DVD Collection: 4 DVD Collection set (4 hours)
Contents
Hidden in: Tents Part I
Hidden in: Tents Part II
Holiness: Liven Leaven Free
Repairers of the Breach
Price: $ 22.63 Buy Now!
Primary Audience/age group: Everyone
Recommended: Yes
Rating: 5 out of 5 points
Review:
This DVD collection is a must have! It is vivid, engaging, and Biblically sound. If you are wondering why your prayers are not being answered… If you are at a loss why you lack power and authority over your situations…If you are tired of being beat up on by the enemy…then you want to pick up this DVD collection now.
You can get it here on Amazon or you can by it from Rod Parsley direct. But this collection will change your life. Parsley tells you how to get free from bondage, how to repair the breach, he points out what God did for you and me in Jesus. He also speaks on what is plaguing the Christian Church–the prosperity gospel, our love of food, the hidden things in our tents–gambling, pornography, selfish desires etc.
Parsley issues a call to return to holiness–to restore the breach. Oh this DVD set will bless your life for you will learn how to walk in divine freedom–how to take authority…how to live the life of a Son of God.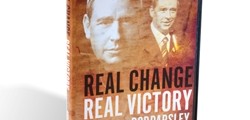 Want a copy?
We highly recommend this DVD set it will help you become the real you—the way God intended. This DVD is good for the whole family—for everyone has leaven or things hidden in their tents. It's time to get them OUT!